What to Look for in an Investment Advisor
Know You're Working With a Wealth Advisory Firm You Can Trust
The world of wealth management is complex, and there are typically several firms involved in the management of a portfolio. We are often asked about the differences and similarities between Multi-Family Offices, Registered Investment Advisors (RIAs), Brokers, Asset Managers, and Custodians. There can be overlap in these firms; often, one firm checks several of the boxes. So how should you decide what firm, or firms, to work with to manage your wealth?
Registered Investment Advisor
Independent Fee-Only Registered Investment Advisors (RIAs), such as Lake Street Advisors, offer unbiased investment management and financial planning services with no hidden incentives. They are held to a standard of fiduciary duty, are not limited to a certain set of investment products, and are not paid any commission.
RIAs come in several shapes and sizes, with service offerings varying from firm to firm. RIAs typically manage the investment portfolio, and may provide additional services such as estate planning, tax optimization, insurance advice, and bill pay.
Having one advisor oversee your entire portfolio is a prudent approach–while there should be ample diversification within the investment portfolio, there is no need for multiple advisors running portfolios in parallel. In fact, this approach can create inefficiencies and adverse tax consequences.
Broker
Brokers are financial advisors working within a large bank. Unlike an RIA, they are not held to a fiduciary standard and are often paid on commission, meaning the products they put in client portfolios could be of benefit to the broker but detrimental to the client. Due to their affiliation with a large financial institution, they often provide proprietary funds, which means more fees for the bank, and they trade through their firm's brokerage, which can lead to misalignment of interests and excessive trading in client accounts. Additionally, brokers are limited only to the investments on the firm's platform, whereas RIAs have an almost unlimited opportunity set.
Asset Manager
Within your portfolio, there could be stocks and bonds, but more likely you will own a mix of several exchange traded funds (ETFs), which are pools of stocks and/or bonds that trade like stocks; mutual funds; and perhaps alternative investments such as hedge funds and private equity funds.
Asset managers are responsible for making the investment decisions within the funds, such as trading stocks and bonds or making venture capital investments. Some are active managers, meaning they only buy the stocks they think are going to do really well, and some are passive managers, meaning they seek to replicate the performance of an index, such as the S&P 500.
Asset managers play an important role in your investment strategy; however, they will not be responsible for setting and maintaining your portfolio strategy or setting your asset allocation targets. Those responsibilities should be left to an independent advisor, ideally a Registered Investment Advisor. It is typically prudent to have assets invested with several asset managers for diversification purposes.
Custodian
Custodians are responsible for the safekeeping of your funds and securities and typically provide trading services in addition to holding your investment assets. Firms such as Schwab and Fidelity offer low-cost trading of stocks, ETFs, and mutual funds, and securely hold your assets. We do not believe there is a need to diversify among different custodians, and prefer to consolidate the holdings of each family with one custodian. This strategy provides operational and tax reporting efficiencies and, in our view, does not increase risk.
When developing a wealth management plan, you should find an advisor that checks all the boxes:
provides you with unbiased advice
is fully transparent
has the capabilities to manage your investments
coordinates your investment strategy with various other components of your financial landscape
The advisor should work with asset managers that charge reasonable fees for the management they provide. Your advisor will recommend a custodian to hold your assets, which should be a reputable firm with reasonable fees for the level of service they provide.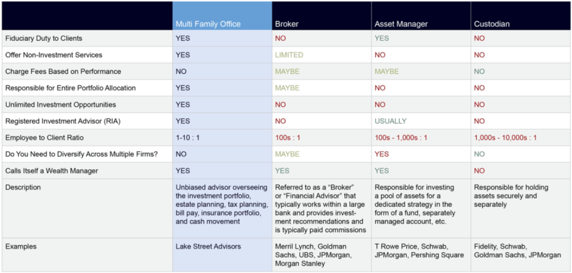 Definition of Registered Investment Advisor (RIA):
A person or firm that, for compensation, is engaged in the act of providing advice, making recommendations, issuing reports or furnishing analyses on securities, either directly or through publications.